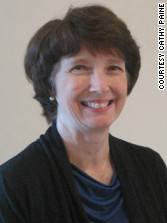 By Cathy Paine, Special to CNN
Editor's note: Cathy Paine is a school psychologist in Springfield, Oregon, and chairwoman of the National Emergency Assistance Team for the National Association of School Psychologists. She was a panelist at the White House Summit on School Violence Prevention in 2006.
This week, Schools of Thought publishes perspectives on school security. Tomorrow, a school resource officer explains his role in campus security.

(CNN) - I received the emergency call at 8:14 a.m. on May 21, 1998.
Eighteen minutes earlier, a 15-year-old student had entered Thurston High School armed with two handguns and a semi-automatic rifle, and in a matter of seconds, killed two students and wounded 25 more, some sustaining life-long injuries. As a school psychologist in Springfield, Oregon, I was called because of my role on the district's crisis response team. In a few short moments, we were transformed from innocent, unsuspecting individuals engaged in our normal routines into traumatized victims of a school shooting spree.
Those shots shattered our sense of safety and security; no longer could we say, "It can't happen here." While nothing in my 23 years of experience in education prepared me for the magnitude of that horrifying event, my training as a school psychologist did prepare me to know how to respond in the moment and to provide counseling support to students and staff in the days, weeks and months of recovery. The experience also reinforced for me how critically important mental health is to all aspects of the school safety and violence prevention continuum.
Since then, I have devoted significant energy to advocating for effective school safety, crisis prevention and intervention strategies at the local and national levels as a member of my district crisis team and as a member and chairwoman of the National Association of School Psychologists' National Emergency Assistance Team. In both roles, I have learned some important lessons about what works, lessons I strongly believe should be our guiding principles as the nation grapples (once again) with the question, "How to we keep our students safe?" in the aftermath of the heartbreaking events at Sandy Hook Elementary School.
First, schools are among the safest places for children and youth and as educators. We must continue to reinforce this message for our staff, families and students. Gun violence is extremely rare. More common threats to student well-being come in the form of bullying and harassment and we need to ground our focus on school safety in preventing these more prevalent risks.
Second, we must balance measures to ensure both physical and psychological safety. The fact remains, intruder-based violence like that in Newtown, Connecticut, is extremely rare and also extremely difficult to prevent. Solutions that may seem most obvious and simple, such as more metal detectors and armed security, might not be most effective. We know with certainty that schools cannot barricade against all possible harm and trying to do so is counterproductive to maintaining a healthy learning environment. Excessive building security does not promote a sense of safety or student well-being, nor does it provide a guarantee when an armed intruder is willing to die. Reasonable physical security must be combined with violence prevention, which is a day-in, day-out responsibility that infuses every aspect of school life.
Third, schools need trained school safety and crisis teams and plans that are consistently reviewed and practiced. Training should encompass ongoing prevention and early intervention as well as response and recovery in the event the unpreventable occurs. Plans and training should facilitate collaboration with first responders and community providers. Teams should include key administrators, security personnel, school mental health professionals and other relevant staff. A primary goal should be to reinforce learning as well as safety.
Fourth, we need to provide adequate access to mental health services and supports in schools and communities. In most places, this means increasing services provided by school-employed professionals. Only a fraction of students in need actually receive mental health services, and among those who do, the majority access those services in school.
Nevertheless, in many schools, the availability of school-based mental health professionals remains inadequate to meet the needs of our children and youth. School psychologists and other school employed mental health professionals are often the first point of referral for students and families. We provide assessments and direct counseling, as well as work with families and teachers to provide cohesive interventions and supports. This often includes serving on the school safety and crisis teams to ensure appropriate assessment of and interventions for students at risk for harmful behaviors. Additionally, collaboration between school and community mental health services providers is essential needed to meet the range of mental health needs of our families.
Fifth, we must continue to focus on how we build and maintain safe school environments that promote learning, psychological health and student success. We must balance physical security with efforts that foster student resiliency, connectedness and social competency. Central to this effort is helping students and their families feel valued and personally invested in keeping their school safe. This relates to teaching codes of conduct, bullying prevention, conflict resolution, personal responsibility, respect and compassion. Promoting trusting student-adult relationships is critical to students feeling safe and empowered to report potentially dangerous activity (including threats of violence and suicide), which is one of our most effective school safety strategies.
A school psychologist was killed at Sandy Hook Elementary and, until and even in the moment of her death, Mary Sherlach exemplified the critical role that school psychologists and school counselors serve in our schools. Mary served students through her work in conflict resolution, positive school climate, crisis intervention and student instruction. Had she not died, Mary would be serving in the same crisis response and recovery role that I served nearly 15 years ago. This would include providing support for teachers and guiding them to help students return to class and a fledgling sense of normalcy; assessing and providing support to students with trauma reactions; educating and supporting families; coordinating services provided in school by community crisis and trauma experts; and consulting with the principal on the characteristics and stages of recovery for students and staff.
There is no single or simple solution to making our schools safe. It is a multi-faceted, on-going effort that requires commitment and participation from all stakeholders. Any act of school violence is unacceptable; so too is failing to act with clarity and diligence on the lessons learned from so many tragedies. Our challenge is to put that knowledge into universal, permanent practice.
The opinions expressed are solely those of Cathy Paine.
What do you think? Read more perspectives on school security, and share your thoughts in the comments section.