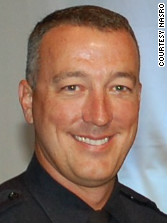 By Kevin Quinn, Special to CNN
Editor's note: Kevin Quinn is a 17-year law enforcement veteran, the president of the National Association of School Resource Officers and a school resource officer in the largest high school in Arizona.
This week, Schools of Thought publishes perspectives on school security.

(CNN) – Ever since the heart-wrenching shooting at Sandy Hook Elementary School in Newtown, Connecticut, I've been hearing from parents who want to know what I'm doing to keep their kids safe. As a school resource officer in a high school, I'm here to answer their questions and take action as necessary. We're all thinking the same thing: Don't let it happen here.
School resource officers have been around for decades, but many hadn't heard of them before the past few weeks. We're not security guards or even extra, hired police officers who "stand guard" in front of a school. School resource officers, known as SROs, are fully sworn law enforcement officers, armed, in uniform and assigned to a school full-time, just as an officer might be assigned a neighborhood. We have all the same training as other police officers, and often more. We know how to deal with situations alone or with just a partner, or how to work within a community of teenagers. The National Association of School Resource Officers estimates there are about 10,000 around the country, mostly in junior high and high schools.
On Wednesday, President Barack Obama called for more emergency planning and school resource officers in our nation's schools – a move the National Association of School Resource Officers applauds. The number of school resource officers declined recently because of tight budgets. Some areas split the cost between the school districts and local governments or use grant funding to employ SROs. I'm not into politics. I don't care how it gets done. But I know that well-trained school resource officers make schools safer.
We do it by working diligently with community stakeholders. The successful school resource officer program is a collaborative effort by certified law enforcement officers, educators, students, parents and the community to offer educational programs in the schools, reduce crime, drug abuse and violence - all of which contribute to a safe school environment.
We are immediate first responders for any and all critical incidents on campus, whether it's an intruder, a student fight or a health emergency. Having a police officer on the campus can eliminate several minutes of response time when seconds count. I know the school like the back of my hand, and if there's a problem, I don't need a map. I can respond in the time it takes me to get down the hall.
We are part of kids' educations. Often times, SROs are invited to be guest speakers in classrooms, where they provide law-related education, not only to students, but to staff members, parents and other community stakeholders. Officers teach juveniles about the importance of the justice system, respecting others and their property and explain law enforcement career opportunities.
We are a liaison between the school and police community. We not only enforce state and city laws, but provide campus security and intelligence. Our ultimate goal is to bridge the gap between adults and juveniles by developing rapport. It takes time for kids to build trust, but once school resource officers establish themselves in a community, kids are willing to come forward and report things, send an e-mail, leave a voicemail, come by the office. They've seen what's in the news, and they want a safe school, too.
We are informal counselors who work to build positive relationships with adolescents, which reduces crime, drug abuse and violence in their community. Students will come to us seeking academic and legal advice on teen issues their parents and teachers might never hear about - parent-child conflicts, dating violence or social network conflicts. If they know a resource officer they've seen every day in the hallway, it's not taboo to be seen getting a snack from my candy jar and talking.
It sounds like a joke, but it's true: Sometimes, near the end of the year, the seniors will run their senior pranks past me. If we do this, what's going to happen? Is it legal or not legal? What would the principal do? Kids have to be pretty darn comfortable to do that, and you're not going to get that by showing up for a few weeks after a major tragedy.
School resource officers are like a personal cop for the kids, and their families.
Parents will often call about issues at home, such as divorce and custody battles, when they need a gut check, or someone to explain how something works. They're part of the school community, and their lives can have an affect on the students, and the school. I'm here for them, too.
You often don't realize the impact you've had till it's over, sometimes months or years down the line. I have former students working in my police department, kids who grew up seeing cops in a positive light and were inspired to make it their career. I don't sugarcoat anything with students, and I've had plenty of parents thank me for dealing with their kids the way I did. One student I know had returned to school after being kicked out - he walked off the graduation stage and said, "Officer Quinn, thank you. I wouldn't be here if not for you."
The best days are when you have fun with the kids in the cafeteria, when everything is moving forward on a positive level, when there are no problems. In the month since the shooting at Sandy Hook Elementary School, it's humbling to realize I've got almost 3,600 students at my school, and thousands of parents relying on me. They all trust their kids are going to go home safe at the end of the day. Because I'm here, I'm going to do everything I can to make that happen.
The opinions expressed are solely those of Kevin Quinn.
Read more perspectives on school security, and share your thoughts in the comments section.