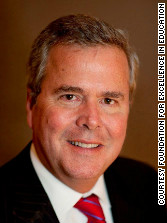 Editor's note: Jeb Bush was governor of Florida from 1999 to 2007 and is chairman of the Foundation for Excellence in Education.
By Jeb Bush, Special to CNN
(CNN) - Kaleigh Fair had to make it work.
The Las Vegas teenager suffers from two different illnesses – one an excruciating immunodeficiency, the other a rare brain condition called Chiari malformation where portions of the brain protrude into the spinal cord.
When spending five hours a day hooked up to an IV prevented her from continuing classes at her traditional high school, Kaleigh didn't give up on her education. She transferred to the Nevada Virtual Academy, a tuition-free online public high school that individualizes curriculums for students of all learning abilities.
Inspired by Kaleigh's strength, her twin sister Danielle switched from her traditional high school to Nevada Virtual, as well, allowing her to receive a quality education while spending more time helping her sister overcome two life-threatening illnesses.
The Fair sisters graduated from Nevada Virtual Academy last spring and enrolled at the University of Nevada-Las Vegas. After all the time she spent at the doctor's office, Kaleigh is pursuing a degree in nursing – through online courses, of course.
Parents, students and community members will gather at more than 3,000 events across the country this week in order to celebrate thousands of outstanding students like Kaleigh and Danielle, and the educational options that they've utilized in order to thrive when presented with situations that just a few years ago would have kept them on the educational sidelines.
The nationwide celebration is called National School Choice Week 2013. Led by a bipartisan, grassroots coalition, National School Choice Week celebrates the rights of parents and children to choose high-performing traditional public schools, public charter schools, private schools, magnet schools, home schools or virtual schools.
The right to a quality primary and secondary education is something that can and should be one of our most fundamental, uniting American issues – and digital education is no exception.
One of the ways digital education unites us is in the ubiquity of its tools; computers, tablets, and even cellular phones make up the future of 21st century communication. We can learn on and with these devices just as much as we use them recreationally. Thanks to technology, parents are empowered to choose not only the best school, but also the best course for their child.
Educational pioneers like Sal Khan of the Khan Academy are harnessing the power of "blended learning" – a classroom structure that harnesses the power of technology to empower teachers and allows students to learn at their own pace. In doing so, they're maximizing students' potential to succeed by opening their eyes to a more diverse, customized array of learning techniques than ever before.
Students in these programs can learn anywhere, at any time, with a customized course load that emphasizes what the student and his or her parents want their son or daughter to learn. Combined with the capacity for instantaneous feedback, this approach emboldens kids who have a demanding schedule, battle learning disabilities, learn at a different pace than others, or, in the case of Kaleigh, suffer from a medical condition that makes attending a traditional school impossible.
This type of customization liberates students from a wasteful, one-size-fits-all system borne from a bygone era and an archaic way of thinking – it's why we see it celebrated over and over again at National School Choice Week events.
Like the Fair sisters' Nevada Virtual Academy, or my home state's very own Florida Virtual Academies, many digital schools across America are, in fact, public. Money that goes to those schools, therefore, stays in the public domain and goes to certified public teachers. When a student transfers from a traditional public school to that virtual school, their per-pupil spending goes with them – other students' funding is not affected. In fact, many digital learning centers' most robust accomplishment might be their cost savings.
According to the U.S. Census Bureau, it costs an average of $7,848 to educate a student at a traditional Arizona public school. And yet, it costs more than $1,000 less to educate a student at based Carpe Diem schools, a leading education provider in the Southwest based in Yuma, Arizona. Carpe Diem isn't the cost exception – it's the norm. And it exemplifies how students transferring to a digital school can actively save taxpayers' money.
Digital learning is just one important element of the overall school choice movement being celebrated during National School Choice week – and rightfully so. There is no silver bullet. There is no one-size-fits-all option. There can and must be only a proliferation of ever-growing options so that students and parents can embrace whatever educational scenario is best for them.
While digital learning may not be the best way to learn for all students, it is the best way to learn for some students. That very fact alone is defense enough for the right of digital schools – and all forms of choice – to rise in the marketplace of educational ideas.
Every child is not a Kaleigh Fair and might not choose virtual learning. But every parent deserves to choose the education that best fits their child's needs.
It might be their only chance for success.
The opinions expressed are solely those of Jeb Bush.