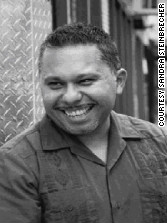 Editor's note: Ray Salazar is a National Board Certified English teacher in the Chicago Public Schools. He writes about education and Latino issues on the White Rhino blog. Follow him on Twitter @whiterhinoray.
By Ray Salazar, Special to CNN
(CNN) - During Tuesday's State of the Union address, President Barack Obama spoke about gun violence, and he continues the discussion in Chicago today. He recognized in his speech, "our actions will not prevent every senseless act of violence in this country."
As a high school teacher in Chicago, I want to hear more than an acknowledgment that shootings are happening, that young people are dying violently and unfairly.  I want to hear his determination to push through Second Amendment politics and assure us his leadership will make our streets safer. We might not be able to prevent every senseless act, but we must decrease the desensitization that encourages only one-word reactions to shootings: "Again?"
My first teaching job in 1995 focused on troubled teens at an alternative high school on Chicago's Southwest side. I grew up in this neighborhood, but only knew gun violence in Little Village as a distant reference - until one of my students got shot in the middle of the day, about one mile from the school, about one block from my house.
Sergio had returned to school in 1996 after dropping out. He slouched and wore a black, dusty hoodie. He struggled. His spelling was so bad that all I could do was rewrite his crooked sentences so he could then rewrite them correctly. He never complained. He sat, mostly silent, usually working. One day, his parole officer met with me and said his spelling was getting better. In 1997, he was shot and died.
He became the first person I knew killed by being shot. A couple of years later, someone shot a gang banger in front of my house while I dozed off to "Saturday Night Live." A few years after that, my wife and I were shot at near our home as we returned from a wedding. Despite my anger, my disappointment, my fear, I felt all I could do was call 911.
In 2012, Chicago reached 500 homicides. So far this year, Chicago has at least 42 murder victims, one of them a high school student who performed at events around Obama's inauguration.
We've explored controversial issues in my classes, but we never took on gun violence, perhaps because it wasn't controversial. There is only one side to it - it should not exist. I didn't know how to push students into a deeper conversation or meaningful debate about this.
It was after the Sandy Hook shooting, however, I felt obligated to engage my students in conversations about guns. Gunshots, because of Colorado, Arizona and Connecticut, finally captured people's attention beyond Little Village. I knew my students would hear perspectives on the news, online, on Facebook. What would they say? What would they do? They needed to know the vocabulary, the history, the rhetoric to challenge closed minds and respond to open-ended questions in ways that represented their individual reality. We needed to join the national discussion.
These, after all, are the experiences that show students how the writing in their notebooks matters outside of our classroom.
For the first time in 18 years of teaching, I asked my students not to make a personal connection to the content. I am prepared to build my students' competence as independent thinkers and as sophisticated writers; I am not prepared to counsel my students through the aftermath of violence.
I pushed them to look at how others led the conversation that could affect their city and their lives.
My students needed to understand how emotional decision making affects our reason. I wanted them to look for the logic, or lack thereof, on both sides of the gun control debate. We focused on examining misconceptions, policy and truths of gun control which, unlike gun violence, is debatable. How were writers and speakers, for example, capturing the audience's attention in responsible and irresponsible ways? This insight would last far beyond any ugly recollection that could arise from sharing personal experiences with gun violence.
We watched a PBS video with young people's perspectives to understand the multiple views from around the country. We viewed analysis about the NRA and the Second Amendment. We read a summary of President Barack Obama's recent gun control policy after the Sandy Hook shooting. We examined gun violence truths and misconceptions, admittedly from a progressive viewpoint. They evaluated the logic of an editorial that claims guns, in cities like Chicago, are not the problem.
READ: Chicago's violence took my dad, friends
Not once did I ask if they knew someone killed by guns. Not once did anyone bring it up. For a couple of weeks, we engaged in a conversation about this controversial topic by reacting to texts, by seeing how they related or contradicted each other. My students found gaps in logic. They individually decided if Obama's proposed policies would make a difference.
We made it through the short lesson, some may say stoically, some may say callously. I say we made it through safely. One student wrote, "Before this, I had my views and experiences with gun violence and this helped me organize my thoughts about it. It's an important issue in the media today and high school students should start practicing voicing their opinions to the world."
Another student wrote, "Not everybody knows about this and if there is confusion, students can clear it up." Another: "Teens open their minds and see the problems around the world and, most importantly, in their community." Another: "Students aren't aware of gun-control views. We are exposed to more myths than truths. Therefore, if we examine views of gun control, our decisions and opinions will be based on reality."
My students, I realized, can now do more than talk about their own experiences with gun violence. They can judge others' views and determine what's valid. (They can also use semicolons and conjunctive adverbs correctly.) The ability to step away from our emotions and experiences to examine an issue will endure beyond a few class periods.
I realized that helping them step away from their reality can be beneficial, too. The only way to examine volatile issues like gun control is to teach students how to understand the logic behind both sides of the debate, to teach them to gain access to credible information, to teach them to assess misconceptions plaguing the Internet, to determine if someone is reacting with reason or with emotion.
Conversations that are so intentionally detached from our lives can only happen after teachers and students establish a good relationship. I would not have taken this instructional risk without establishing a good bond with my students first. Sadly, with all the violence faced by our city and country, I know I'll use this lesson plan again.
Teachers outside Chicago need to help students understand the gun control debate, as well. Even if students haven't been directly affected by gun violence, the discussion can help them understand the debate outside their protected world is complex - and their world can too easily be shattered when we think of gun violence as someone else's problem.
As gloomy as this issue is, one of my students reminded why we must continue the conversation: "It will allow for more voices to be heard rather than just a politician's."
My students and I will watch Obama speak today and consider his rhetorical moves. Our country, our city, my students must then decide, will Obama's ideas and visit make a difference?
Experts and analysts will express their decisions on the airwaves and in print. My students will express their decisions on notebook paper in our class. Because of their experiences and our gun control lesson, I trust these young people's judgments will be just as precise.
The opinions expressed are solely those of Ray Salazar.