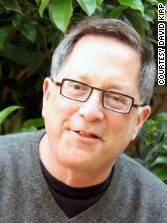 By David L. Kirp, Special to CNN
Editor's note: David L. Kirp, professor of public policy at the University of California at Berkeley, is the author of "The Sandbox Investment" and the forthcoming book "Improbable Scholars: The Rebirth of a Great American School System and a Strategy for America's Schools."
(CNN) - Kudos to the president - his call for preschool for every 4-year-old, in the State of the Union address, is a bold and visionary idea. It's what those who understand the power of early education to unlock children's minds have been urging for years. It's what I promoted when I served on the 2008 presidential transition team. But - and it's a very big but - whether universal prekindergarten really makes a difference in children's lives or turns out to be a false hope depends entirely on the quality of what's being offered.
The plus-side first: It takes nothing away from the president's boldness to note that early education, which used to be derided as baby-sitting, now enjoys widespread popularity. Scientists have learned how rapidly the brain develops during the first years and how much those early experiences build a foundation for later learning. "Skill begets skill," as Nobel Prize-winning economist James Heckman puts it, and studies of marquee prekindergarten programs show its potential for lifelong impact. Economists have calculated that every dollar invested in high-quality preschool returns $7 - a figure that would make Warren Buffett envious - with greater educational achievement, higher earnings, fewer unwanted pregnancies, lower welfare costs, even lower crime rates.
Parents get it. They are voting with their feet by increasingly enrolling their toddlers in preschool. Voters get it, too. Polling done by First Focus, a bipartisan advocacy organization for children, shows that conservatives as well as liberals support early education. The biggest naysayers are the Republicans on Capitol Hill, but as with immigration reform, gun control, marriage equality and raising the minimum wage, they're on the wrong side of history.
But expanding preschool isn't enough. The research shows that if it's going to have an impact, preschool must be good. Quality costs money, though, and lawmakers have often been loath to underwrite it.
They're making the straightforward calculation that expanding the numbers of kids in pre-K gives them bragging rights with the voters, while improving teachers and insisting on a curriculum that's based on evidence, not hunch, is a snoozer, politically speaking.
If this sounds cynical, have a look at what's been happening across the country. The good news is that 39 states and the District of Columbia now provide some funding for early education, and the number of 4-year-olds in these prekindergartens increased to 28% in 2010-11, up from 14% a decade earlier.
That's the upside. At the same time, though, many states have watered down their programs. Just $4,151 is spent on each preschooler, 15% less than in 2002. It's about a third of what's spent for elementary and high school students. As you'd imagine, it buys an inferior early education, with pre-K teachers paid a pittance. And in preschool, like life, you get what you pay for. Bad prekindergarten doesn't do a little good - it does no good at all and might even lead to more aggressive youngsters.
Consider the sad case of Florida.
A decade ago, the voters there made universal preschool a state constitutional right. While the voters demanded that these programs be "high quality," they neglected to back up their words with dollars. The Sunshine State spends less than $2,500 for each kid, an amount that has actually shrunk in recent years. With little public oversight, it's apple-pie easy to open a preschool and collect public dollars. Not surprisingly, the National Institute of Early Education Research, which issues an annual report card on the states, reports that Florida meets only three of 10 quality standards.
At the other end of the spectrum, New Jersey has invested in a model program for children living in the state's poorest urban school systems. In both private and public preschools, qualified teachers earn salaries comparable to K-12 teachers, classes are small, the curriculum is solid and the programs get evaluated. Evaluations have shown that children who attend one of these prekindergartens do better in math and reading; they're also less likely to have to repeat a grade.
I spent a year in one of those districts, Union City, a poor immigrant community across the Hudson River from Manhattan that does a remarkable job of bringing children into the educational mainstream. As everyone there will tell you, the explanation for Union City's success starts with a preschool program for 3- and 4-year-olds that passes the "golden rule" test - you'd be happy if a toddler you love was enrolled there.
There's nothing right wing or left wing about good prekindergarten. Oklahoma, among the country's most conservative states, has one of the best early education systems. GOP-dominated Georgia was the first state to adopt preschool for all. And in Alabama, another Republican bastion, Gov. Robert Bentley, backed by a coalition of early education advocates and business leaders, has proposed a 60% increase in the preschool budget. All three states require that preschool teachers study child development and set the bar high for teaching and learning standards.
Can Washington, working in partnership with the states, produce more New Jerseys and Oklahomas? There's no faulting the administration's blueprint, which sets quality standards for preschool, expands Early Head Start for 2- and 3-year-olds and offers support that enables parents do the best they can.
Will the reality match the high hopes? Stay tuned.
The opinions expressed are solely those of David L. Kirp.