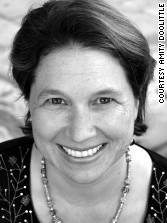 By Amity Doolittle, Special to CNN
Editor's note: Amity Doolittle is a lecturer and research scientist at Yale School of Forestry and Environmental Studies and the director of undergraduate studies in the environmental studies program at Yale College.
(CNN) - Each year, a new class of students arrives at Yale School of Forestry and Environmental Studies, where I teach courses on social and environmental justice. You can see the energy radiating from them. As young environmentalists, their determination to make a difference is palpable. Their ambition and idealism are so important - it draws bright and forward-thinking students to a profession not known for exorbitant salaries and luxurious lifestyles. And for a few weeks each fall, as the air turns brisk, you can feel the school pulsing with optimism.
Inevitably, as the fall turns to winter, reality sets in, and the atmosphere at the school begins to change. Students confess that they are more confused than when they arrived. They begin to question themselves. One of the hardest lessons they learn is that we, the supposed experts, do not have the answers; we cannot pretend to assume that we know the "right" way to fix intractable global problems.
This lesson is hard for students to accept. They have been primed to believe that they are our future leaders, and in truth, many of them will be. But what they are not told is that becoming a leader will take much more than an advanced degree. Even after graduating, many may have at least a decade of work and life experiences to accumulate before they can be begin to be leaders, begin to make a difference.
I learned this lesson myself over decades. As a doctoral student, I researched native land rights in Sabah, Malaysia. I published the requisite academic book and thought, "What good have I done?" Following academic conventions, my work drew heavily on social theories of power, state building and property rights. I felt that it was dry, held together with jargon. I imagined my book would sit in a dusty library.