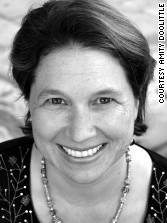 By Amity Doolittle, Special to CNN
Editor's note: Amity Doolittle is a lecturer and research scientist at Yale School of Forestry and Environmental Studies and the director of undergraduate studies in the environmental studies program at Yale College.
(CNN) - Each year, a new class of students arrives at Yale School of Forestry and Environmental Studies, where I teach courses on social and environmental justice. You can see the energy radiating from them. As young environmentalists, their determination to make a difference is palpable. Their ambition and idealism are so important - it draws bright and forward-thinking students to a profession not known for exorbitant salaries and luxurious lifestyles. And for a few weeks each fall, as the air turns brisk, you can feel the school pulsing with optimism.
Inevitably, as the fall turns to winter, reality sets in, and the atmosphere at the school begins to change. Students confess that they are more confused than when they arrived. They begin to question themselves. One of the hardest lessons they learn is that we, the supposed experts, do not have the answers; we cannot pretend to assume that we know the "right" way to fix intractable global problems.
This lesson is hard for students to accept. They have been primed to believe that they are our future leaders, and in truth, many of them will be. But what they are not told is that becoming a leader will take much more than an advanced degree. Even after graduating, many may have at least a decade of work and life experiences to accumulate before they can be begin to be leaders, begin to make a difference.
I learned this lesson myself over decades. As a doctoral student, I researched native land rights in Sabah, Malaysia. I published the requisite academic book and thought, "What good have I done?" Following academic conventions, my work drew heavily on social theories of power, state building and property rights. I felt that it was dry, held together with jargon. I imagined my book would sit in a dusty library.
One afternoon, while I was doing uninspiring paperwork at my first post-doctorate job - definitely not making a difference - I received an e-mail from an nongovernmental organization in Sabah asking if I could be an expert witness in a court case on native land rights. At the time, with a new baby, new job and other complications of life, traveling to Southeast Asia did not seem possible. I suggested I could answer some questions over e-mail, but their questions were so complex that all I could say was "read my book."
I sent them a copy by mail, scanned and e-mailed many of the colonial records on native peoples that I had collected in a public records office in England - historical records completely unavailable to a small organization in Borneo. I knew this was probably the first time they had seen the raw material of how British colonialism ruled and treated native peoples in the late 19th century. I felt good, like I had paid back at least a small part of the debt I owed to all the people I worked with in Sabah.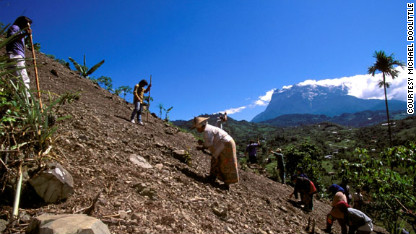 Doolittle says her research in Malaysia helped to change laws years later.
Then, the NGO convinced the court to allow a stay long enough for them to read my book and look over colonial documents. When the judgment was finally released, more than 20 pages of my book were quoted supporting changes in native land rights.
My research was used to change the state laws, making it possible for native peoples to get legal ownership of the land that their families had lived on and farmed, often for centuries.
All this happened nearly a decade after I completed the research. When I started on this research in 1994, there was no way I could have predicted or even tried to facilitate this long path toward making a difference. The ability of my work to make a difference lay in the hands of people other than myself, people across the world. Without the diligence and hard work of the NGO members who helped support the native claims over land, and without a judge who was willing to take a risk in the defense of native land rights, none of this would have happened.
When I tell students this story, the lesson that I am trying to teach is that change takes a long time, that it is far more complicated than a single action or even a set of actions. Cause and effect are hard to see and often our contribution is only one small part of a larger effort. I also hope that this small story of success will remind students not to give up on themselves or their dreams for a better world, even when they are faced with the inevitable challenges ahead. This story reminds us all that change is never the work of one person.
I have been teaching long enough that I can now see my graduated students doing great work around the world, and I feel hopeful that, as a team, we will collectively make important contributions to social and environmental justice.
So, yes, go make a difference, but don't expect it to happen in a three-month summer research project. Have patience with yourself and the world. Focus on building a deep reservoir of experiences and knowledge. They will help you inch toward a better world.
The opinions expressed are solely those of Amity Doolittle.