By David J. Skorton, Special to CNN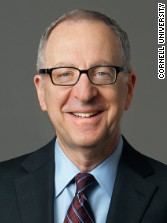 Editor's note: David J. Skorton is president of Cornell University and professor in the Departments of Medicine and Pediatrics at Weill Cornell Medical College and in Biomedical Engineering at Cornell's College of Engineering. A former president of the University of Iowa, he is a board-certified cardiologist, past chair of the Business-Higher Education Forum and life member of the Council on Foreign Relations.
(CNN) - As college admissions notifications go out over the next several weeks, there is no doubt that the cost of college is a growing concern. Students and families are trying to figure out how to get the most out of the college experience and the best value for their investment.
The interactive College Scorecard that President Barack Obama announced in his 2013 State of the Union Address provides the average "net price" of attendance - that is, tuition minus the average amount of financial aid. (As the scorecard notes, it is important to get more specific cost information by using the financial aid calculator on each college's website.)
Promised, but not yet available in the scorecard, is a summary of the kinds of jobs that students find once they graduate and how much they earn. This information may be of limited utility, however, because, as Harvard President Drew Faust has pointed out, the value of a college degree should not be judged solely on the first job acquired, but it should be "a passport to a lifetime of citizenship, opportunity, growth and change."
How can students and families navigate these confusing and ever-changing waters? As a university president whose institution received nearly 40,000 applications for admission this year, as someone who is responsible to see the big picture - and as someone who has been through the college selection process with members of my own family - I know that a substantial part of college choice must belong to the student. It must encompass facts, but also the "feel" of the college and the fit with the student's background, personality and interests.
READ: College Scorecard tries to reality check school 'sticker price'
So, students, here are some things, beyond the College Scorecard, to consider in deciding which colleges provide value for you.
First, the faculty: Will you be learning from experts? Check out the proportion of faculty who have a Ph.D. or the highest professional degree in their field. Faculty experience in a non-academic setting can be a plus, especially in professional fields like engineering, business, law and architecture, and in the visual, performing and creative arts.
What proportion of the faculty has full-time appointments; what proportion are adjuncts? You'll probably be able to grab a full-time professor after class or stop by during regular office hours to get extra help; an adjunct might be teaching classes at several institutions and have limited opportunities to engage outside of class.
What is the student-faculty ratio? Look at the overall number of students per faculty member and the balance between large lecture courses and smaller classes. Large courses don't necessarily lead to disappointing experiences - one of the most popular courses at Cornell, an introductory psychology course, had an enrollment of more than 1,200 year after year, but it also employed a small army of effective teaching assistants.
A new issue relates to student-faculty ratios: the emerging phenomenon of "massive open online courses" or "MOOCs." In this new approach, a well-known, respected teacher anywhere in the world may offer online lectures or presentations to many thousands of students via the Internet. MOOCs are growing at a rapid rate, and as their use evolves, ask, do faculty members at a given institution participate in MOOCs? Does the institution incorporate MOOCs into its teaching? Does it offer academic credit for MOOC completion?
Second, look at the quality and diversity of the student body. What is the proportion of accepted applicants? What types of awards or honors do students earn? What are their demographic characteristics? You'll learn more if your peer group is as bright - or brighter - than you. You'll also learn more by living and learning with people from a variety of geographic, ethnic, racial, political, religious and socioeconomic backgrounds.
Third, consider the quality of the academic program. Is the institution strong in the fields you think you want to pursue? Does it offer a wide variety of academic programs, in case you discover that your intellectual passion lies in a different area? Will you be able to develop your skills in critical thinking, analysis, synthesis and communication? Are you likely to gain insights into other cultures and into the human condition through rigorous programs in the liberal arts? Are there opportunities that allow you to combine theory with practice and service in the real world? Are there meaningful options for studying abroad, so that you can experience another culture firsthand?
READ: How to get the most out of your college campus visit
Fourth, try to get a sense of undergraduate life outside the classroom. Do most students live on campus? Are there a variety of co-curricular and extracurricular activities - athletics, arts, student government, public service and social activism? One caveat: the most sumptuous facilities and amenities may not equate with the best education, but they can drive up cost. At least one study suggests that less-selective colleges can actually hurt their enrollment by investing in instruction, rather than student activities, sports and dormitories. Some students who apply to these institutions might care more about the "resort" experience than academics. High-achieving students, on the other hand, are attracted by perceived investments in academic quality, the study said.
Finally, given the time and money likely to be invested in higher education, consider how the experience will enhance your prospects for employment. It is worth looking into the career services available at the institution, the number and kinds of recruiters who come to campus each year, the availability of co-op and internship programs and the willingness of alumni to take part in mentoring and job-shadowing programs.
But college should provide an education not just for the first job, but for life.
As a colleague and I have written elsewhere, it is important for students to major in what they enjoy most and what they're best at. When they do so, they're more likely to excel in their classes and enhance their career options. Those who complete post-baccalaureate study will increase their chances of finding prestigious, high-paying jobs and, equally important, fulfilling work that allows them to understand our world more completely and to make a difference.
At the end of the day, that is the real value of a college degree.
The opinions expressed are solely those of David J. Skorton.