[soundcloud url="http://api.soundcloud.com/tracks/87301275" params="auto_play=false&show_artwork=false&color=ff7700" width="100%" height="166" iframe="true" /]
By Jamie Gumbrecht, CNN
(CNN) - As Quanesha Wallace remembers, it was around this time last year when the idea first came up at Wilcox County High School. It was nothing big, just chatter about prom, school, what comes next, what they'd change.
If things were different, someone said, we'd all go to the same prom.
For as long as anyone could remember, students in their South Georgia community went to separate proms, and homecoming dances, too. White students from Wilcox County attend one. Black students, another. They're private events organized by parents and students, not the school district. Schools have long been desegregated, but in Wilcox County, the dances never changed.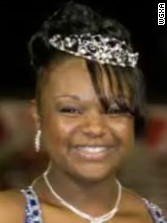 The friends all agreed they'd go to an integrated prom, Quanesha said, and when they asked, others said, "Yeah, I'd go, too."
"We are all friends," Quanesha's friend, Stephanie Sinnot, told CNN affiliate WGXA-TV in Macon, Georgia. "That's just kind of not right that we can't go to prom together."
So now it's April, and prom is coming up, and these black and white friends, longtime pals who go to classes together and play sports together and hang out together, are going to prom together, too. For the first time, students are organizing an integrated dance, one that welcomes any of Wilcox County High's 400 students.
"This is going to be the biggest prom ever to come through Wilcox County," said Quanesha, one of the event's organizers.
The theme will be "Masquerade Ball in Paris." There will be an Eiffel Tower and Mardi Gras-style masks, dancing, flowers, catered food and a clubhouse in nearby Cordele. They're expecting gowns, ties, manicures, up-dos, sparkle. Quanesha has a date, although she hasn't decided on a dress.
"If you want to get fancy, get fancy," said Quanesha, 18. "If you don't, that's fine."
Attendees will vote on a king and queen but also cutest couple, best smile, best dressed. They'll do a recognition ceremony for a classmate who died. They'll start a new prom tradition: a unity toast.