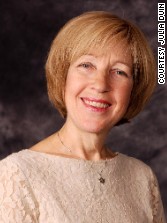 By Julia Duin, Special to CNN
Editor's note: Julia Duin teaches journalism at Union University in Jackson, Tennessee. She worked in newspapers for 25 years, including stints at the Houston Chronicle, the Washington Times, and for the past two years, as a contributing writer for the Washington Post Sunday magazine. Her website is juliaduin.com. Follow her on Twitter @juliaduin.
 (CNN) - Remember those late summer days, just before the start of school, when you knew you were free as a bird until Labor Day?
I used to enjoy them, too. And then I moved to West Tennessee.
The Volunteer State is one of 10 states - all in the South except for Utah and Arizona - where a majority of schools begin classes before August 15. I'm willing to bet the school start dates here are the earliest in the country. Nashville public schools will begin their classes next summer on August 1. In Chattanooga, it will be August 8. Memphis will start August 5. Things are a little saner in Knoxville, where schools will begin August 21 this year.
But recently, my local school board in Madison County voted to begin school on August 2.
Yes, August 2. I'm the parent of a first-grader in one of the elementary schools in Jackson, a city of 65,211 an hour east of Memphis. It is best known as the place where legendary railroad engineer Casey Jones grew up. It is a center for cotton, soybeans, a Pringles Potato Chips plant - and early schools.
Before moving here, I lived in Maryland, a state that Education Week recently anointed as having the country's best schools. We started school around the third week in August and ended in early June. Most of the country cannot comprehend starting school August 2.
I like to spend summers near family in the Pacific Northwest, where summer doesn't even kick in until July and August and September are the best months to be there. All around the country, there are reunions, sporting events, fairs, festivals and zillions of outdoor events in August. All my college friends from Oregon are having our once-every-five-years reunion the second weekend of August. In 2008, I went. This year, I will be stuck in Tennessee.