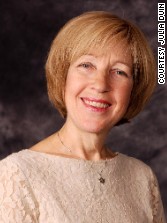 By Julia Duin, Special to CNN
Editor's note: Julia Duin teaches journalism at Union University in Jackson, Tennessee. She worked in newspapers for 25 years, including stints at the Houston Chronicle, the Washington Times, and for the past two years, as a contributing writer for the Washington Post Sunday magazine. Her website is juliaduin.com. Follow her on Twitter @juliaduin.
 (CNN) - Remember those late summer days, just before the start of school, when you knew you were free as a bird until Labor Day?
I used to enjoy them, too. And then I moved to West Tennessee.
The Volunteer State is one of 10 states - all in the South except for Utah and Arizona - where a majority of schools begin classes before August 15. I'm willing to bet the school start dates here are the earliest in the country. Nashville public schools will begin their classes next summer on August 1. In Chattanooga, it will be August 8. Memphis will start August 5. Things are a little saner in Knoxville, where schools will begin August 21 this year.
But recently, my local school board in Madison County voted to begin school on August 2.
Yes, August 2. I'm the parent of a first-grader in one of the elementary schools in Jackson, a city of 65,211 an hour east of Memphis. It is best known as the place where legendary railroad engineer Casey Jones grew up. It is a center for cotton, soybeans, a Pringles Potato Chips plant - and early schools.
Before moving here, I lived in Maryland, a state that Education Week recently anointed as having the country's best schools. We started school around the third week in August and ended in early June. Most of the country cannot comprehend starting school August 2.
I like to spend summers near family in the Pacific Northwest, where summer doesn't even kick in until July and August and September are the best months to be there. All around the country, there are reunions, sporting events, fairs, festivals and zillions of outdoor events in August. All my college friends from Oregon are having our once-every-five-years reunion the second weekend of August. In 2008, I went. This year, I will be stuck in Tennessee.
When I got word that the Madison County school district was thinking of starting classes a month before Labor Day, I wrote an opinion piece for the local paper. After it ran, I only got one phone call - from a parent - in favor of my stance and two, both from teachers, suggesting I leave the state if I was complaining about local customs. I showed up at a school board meeting in mid-February to agitate for turning back the calendar to a more sane start date. Most of the board members just sat there and looked at me. The principal of my school told me it had been this way for years and that parents had just gotten used to it. The inertia was amazing.
Early school starts mean that teachers have to prep in their classrooms in late July, smack in the middle of summer. When school starts - and Tennessee in August is sweltering - students in my district are handed bottles of water to take on the buses, which have no air conditioning. My daughter has a 40-minute ride home on one of those buses. As for taking outdoor physical education classes, forget it. Too hot. Holding classes then pushes up utility bills, too. It takes a lot more energy to cool schools in August than May or June.
The state tourism industry takes a hit, as well. According to a 2007 study by the University of Tennessee Tourism Institute, the state would receive an addition $189 million in its coffers (which would pay for a lot of teachers' salaries and new schools) if the state's schools stated after Labor Day. The University of Minnesota Tourism Center did a similar survey, released this past July, showing that if schools start before Labor Day, summer family travel drops by one-third. There have been fights in the state legislature over this for years, yet still, here we are.
To make matters worse, schools in my county take a full week off in October. The plight of working parents - who often have no one to take care of their offspring for that one week - doesn't concern the Madison County school board a whit. When I asked the board if they'd ever polled the parents of 13,308 students as to what they wanted, the superintendent had to admit they had not. The two teachers who contacted me were most upset at by my suggestion that the school board ditch the fall break so as to start school later. But the teachers feel that by early October, they have already been holding classes for two months and they need a breather. That October break is not so much for the students, but to give teachers a rest.
Early school start dates began here in the mid-1990s. Educators, led by the local superintendents, like ending the semester in December, so they can give required state tests just before Christmas. They like a few weeks more of instructional time for students to bone up for college entrance exams. They also like starting a new term in January and ending around Memorial Day, so that teachers working on advanced degrees can take college courses in June.
Earlier: Will shorter summer break save these schools?
Because these are the months when school districts nationwide set their calendars for the following school year, informal groups with names like Save Tennessee Summers, Save Indiana Summers and Save Kentucky Summers are firing up bills to present to state legislatures this spring seeking saner school calendars. A representative from the Coalition for a Traditional School Year told me she's working with 11 legislatures. They will spout reasons for starting school later in the summer plus data from a University of Texas researcher - presented to the Texas state legislature in 2006 - claiming that early start dates don't push test scores up at all. A Christmas break actually aids in retention of information and best test scores, the researcher said.
In Mississippi and Alabama, the state legislatures have stepped in to mandate that schools start no sooner than two weeks before Labor Day and end by Memorial Day weekend. (In other states, the start date is whatever the local school board feels like doing.)
The problem is not a new one and some national media, like The Wall Street Journal have been writing about August becoming the new September since 2000. But school boards are still dead-set against later start dates and in Tennessee and Indiana, the state legislatures have passed bills mandating later start times, only to have them die in committee.
The reason? Education officials are still pushing the fiction that the earlier the start date, the better the test scores. And the state school boards association, with its "Local Schools, Local Decisions" motto, resists being told what to do by the legislature, even if the legislature might be right. I know that the No Child Left Behind Act has put pressure on schools to do better. But making kids come to school in the middle of summer isn't the solution.
For now, I'm searching out summer camps for my daughter that start in late May. I attended a second school board meeting in March to present more of my research and remind them to ask parents what we want. I got glassy-eyed stares in return. This is the South, someone told me later. When people like things the way they are here, don't expect them to change.
And so, I invited them to come ride my child's school bus on one of those blistering August days. If that's not enough to make them realize the dog days of summer are a bad time to have school, then nothing will.
The opinions expressed are solely those of Julia Duin.
How has your school calendar changed over the years? Are you happy with it? Share your perspective in the comments, or tweets us @CNNSchools.