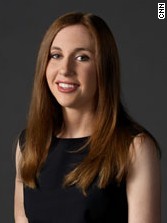 By Elizabeth Landau, CNN
Editor's note: Elizabeth Landau is a writer and producer for CNN.com. She is a 2006 graduate of Princeton University.
(CNN) - When I told my mother that my senior thesis proposal had been accepted, that I would travel overseas to study the legacy of medieval Judaism in Spain, her main question was: "Where is this all going?"
For a 21-year-old, it's often not clear where anything is going. I wasn't entirely sure myself. In today's tough job market, it may be hard for students - or parents - to rationalize working on an extensive academic research project over the course of the senior year of college, especially in the liberal arts.
But this is the season when some students are deciding whether to pursue one, and the seniors are submitting them. So, parents, listen up: A senior thesis is something that you should motivate your college student to do, even if the subject doesn't lead to an obvious career path.
Outside of graduate studies or academia, most people will never again choose a topic that they want to research deeply for months, and write about what they discovered. As long as there's an academic supervisor, reading and writing involved, the process can help with job and life skills.