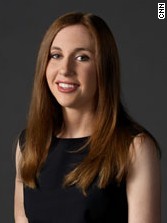 By Elizabeth Landau, CNN
Editor's note: Elizabeth Landau is a writer and producer for CNN.com. She is a 2006 graduate of Princeton University.
(CNN) - When I told my mother that my senior thesis proposal had been accepted, that I would travel overseas to study the legacy of medieval Judaism in Spain, her main question was: "Where is this all going?"
For a 21-year-old, it's often not clear where anything is going. I wasn't entirely sure myself. In today's tough job market, it may be hard for students - or parents - to rationalize working on an extensive academic research project over the course of the senior year of college, especially in the liberal arts.
But this is the season when some students are deciding whether to pursue one, and the seniors are submitting them. So, parents, listen up: A senior thesis is something that you should motivate your college student to do, even if the subject doesn't lead to an obvious career path.
Outside of graduate studies or academia, most people will never again choose a topic that they want to research deeply for months, and write about what they discovered. As long as there's an academic supervisor, reading and writing involved, the process can help with job and life skills.
Not every college or department will offer the chance. Princeton University, where I went, prides itself on requiring every Bachelor of Arts candidate to submit at least one thesis. Many institutions offer at least the choice of doing a thesis, sometimes as part of an honors program.
At Princeton, I majored in anthropology with minors in Spanish and creative writing. To combine all three, I planned to travel to Spain, conduct interviews in Spanish and write an anthropology thesis and  a novel based on my research.
I wanted to learn about Judaism today in Spain, hundreds of years after King Ferdinand and Queen Isabella ostensibly kicked out Jews and Muslims in 1492. There were Jews who stayed and were forcibly converted to Catholicism, but some secretly maintained Jewish traditions. Now that it's not a crime to be a Jew in Spain, some people of Spanish descent are reclaiming their Jewish heritage.
There are many words floating around for this concept: You might read about "marranos," "chuetas" (in Majorca), "crypto-Jews," "conversos" and even "b'nai anusim," meaning children of those who were forced to convert. As a Jewish person with an interest in Spanish history, I wanted to know more.
So, with the help of grant money from Princeton, I completed a Spanish language program in Leon and traveled all over the rest of Spain visiting synagogues. Some medieval houses of Jewish worship are now churches. There's one in Toledo that's a museum. But I found smaller ones that actively hosted religious services and taught community members the ways of the faith. I spoke with people who felt compelled to convert to Judaism, or at least learn more about it, because they believed it to be their heritage.
Cornell president: How to find the best-value college for you
I think anthropologist Clifford Geertz described the kind of anthropology research I did perfectly in a 1998 essay for the New York Review of Books called "Deep Hanging Out" - you are a participant in a community, but also an observer. Because you are an outsider, everything that happens, even informally, becomes relevant to what you take away from it.
During the course of my senior year at Princeton, I met often with my anthropology adviser, Isabelle Clark-Deces, and my creative writing adviser, Joyce Carol Oates. Both professors were wise and encouraging.
I can't point to any particular moment where I thought, "Aha! This is a breakthrough!"  But navigating a foreign country, interviewing and observing people, writing up my notes, supplementing them with library research and meeting frequent deadlines for chapters – whether for the fictional or factual components – prepared me well for a career in journalism.
An acquaintance, Rebekah Goode-Peoples, explored what she calls "apocalyptic" thinking for her thesis at Agnes Scott College in Decatur, Georgia. She connected '90s hip-hop lyrics to ideas about the end of times in literature at several turns of centuries. The big lesson for her was about connecting archaic material to personal interests.
"In my job as a teacher, I understand that no matter what I'm teaching, I have to start by tapping into where they (the students) are, what they are into," she told me in an e-mail.
Another acquaintance, Carol Dreibelbis, a 2011 Princeton grad, spent a summer doing "participant observation field research in a vegan bakery in Seattle" in order to study veganism in the United States.
I know what you're thinking: How does noshing on apple fritters and lemon poppy donuts constitute scholarship? But Dreibelbis also spent a lot of library time on research and writing. She is now a senior research associate for a business research corporation in Washington.
"My thesis experience helped me gain confidence with project management, writing, primary research and secondary research - skills I use every day in my current job," she told me in an e-mail.
Yale professor: The hard lesson that saving the world isn't easy
More traditional library theses are also successful. My college sweetheart got an award for his analysis of what a flat tax would mean for the United States, and he's on his way to a Harvard Ph.D. (We didn't marry.)
Some students' theses go on to bigger things, too. Fellow Princeton University Band musician R.W. Enoch wrote "Ideology: Suite for Jazz Band and Chamber Orchestra" and used the recording to get his first jobs scoring music. He now operates an original composition and production firm in Los Angeles.
Wendy Kopp, founder of the national teaching corps Teach for America, wrote about her idea for the organization in her Princeton senior thesis in 1989.
Author Jonathan Safran Foer wrote the basis of his novel "Everything is Illuminated" as his senior thesis.
So what became of all my research?
I didn't do anything with my anthropology thesis - except refine some skills that helped me land a job. I'd like to re-write my novel, but it's not ready for prime time. I had the dream of doing what Foer did: To turn my college novel into a popular, published work of fiction. (If there's one piece of advice from my professor that stuck, it was this: Let the novel sit for a few years and then come back to it. In the meantime, read more literature.)
Some senior theses have a way of resurfacing. That's what happened with first lady Michelle Obama and Supreme Court justices Samuel Alito, Sonia Sotomayor and Elena Kagan.
Having risen to prominence, they've all left behind papers written in delicate years of collegiate curiosity, when their career paths weren't immediately clear and they had the opportunity to research whatever they wanted.
So maybe we don't know where any of this is going at 21. But I'd like to think that if we find something we enjoy studying, and give it 100%, it will all lead somewhere good.
What was your thesis about? Did the experience held define or lead to a career? Share your experience in the comments or tweet us @CNNSchools.