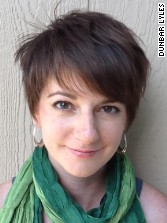 By Katie Lyles, Special to CNN
Editor's note: Katie Lyles, who teaches third graders in Colorado, was a student at Columbine during the massacre 14 years ago.
(CNN) - At 16, my innocence was shattered when two gunmen murdered 13 people at my school and wounded countless others.
Columbine High School promised to be a safe and secure place of learning. And that promise was broken on April 20, 1999.
On that morning, I headed to school worried about my 10th grade math test and my upcoming track meet. Useless worries: The test was never given and we never held the meet.
Scars remain from that day that no one can see. Scars that made my worries about math tests or track performance pale in comparison to whether my science partner would live or whether my classmate's speech would be impaired by the shrapnel lodged in his skull. Today, those mental scars throb in large crowds and force me to scan the room for exits. They make my heart beat faster when I hear the blades of a helicopter overhead.
Now, as a teacher in my eighth year in the classroom, I consider every day that I go to work a privilege. I cherish my students' joy and enthusiasm, and most importantly, their innocence.
I believe that it is our job, as a society, to protect these virtues in our young people. I want them to be worried about math tests and track meets and about science fairs and student council elections - the kind of normal school stuff that builds character. But our epidemic of gun violence is creating a culture of fear in our schools, where students are anxious about safety and intruders. These are worries no student should have.
Opinion: It's time to change schools' culture of misery
This becomes even more apparent when we conduct our monthly emergency drill at our school. It's a way to be prepared for the worst, so we practice lockdowns, fire drills and evacuations.
The other day, I was explaining to my third graders that we were going to practice a lockdown just in case a bear happened to be on the playground - a real scenario for our Colorado school. I have used this example my entire teaching career because it's an easy and nonthreatening reason to practice a lockdown.
One girl raised her hand and asked: "Is this what we would do if a bad guy came with a gun to hurt us?"