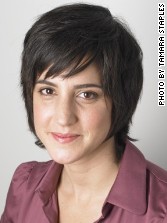 By Rachel Simmons, Special to CNN
(CNN) - Spring may be graduation season, but the most coveted rite of passage for many teenage girls is the prom.
From the latest craze of "promposals" to the minute-by-minute social media broadcast of it all, the rituals of prom form a throwback cultural primer called "How to be a young woman." Teen girls are competing relentlessly to be queen.
The queens of prom are the conventionally beautiful, the wealthy and the heterosexual - always passively waiting to be asked.
Isn't prom just a fun dance that hardworking students deserve? Sure, but it's also an event where girls internalize damaging cultural messages. Those who are exalted on this "once in a lifetime" night offer an object lesson in how modern girls are expected to look and act.Prom is a cultural report card of sorts on how well, or not, young women are doing.
Here's what a bright 17-year-old girl learns as her lace gown drags behind her into the school gymnasium:
She learns that she must have money to attend the prom
Prom was modeled after the debutante ball of the old days, where elite girls formally announced they were ready to date, while a hand-picked bevy of suitors watched. Today, prom is still a rich girl's party.
In 2013, prom spending will rise on the shoulders of a more robust economy. Families who plan to spend money on the big night are expected to drop an average of $1,139. All that cash might be good for business, but it disadvantages the poor and working class girls who can't keep up. Meanwhile, boys can get away with renting a tux for less than $100.