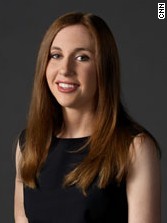 By Elizabeth Landau, CNN
Editor's note: Elizabeth Landau is a health and science writer and producer for CNN.com. She is a 2006 graduate of Princeton University. Here she offers a personal take on the terror that can accompany such a happy milestone.

(CNN) - On paper, I was ready to graduate. In my head, though, I never wanted that moment to arrive.
Sure, I was academically qualified. I had already been through the festivities that Princeton lavishes upon its graduating seniors in the week prior to The Day: The Reunions parade, a hilarious talk by David Sedaris, an outdoor sing-along, an inspirational speech by Bill Clinton, the bestowing of honors and awards, and a prom-like gala where soon-to-be-graduates and parents danced awkwardly. Princeton really likes to celebrate things.
The final ceremonial act would, superficially, be the easiest and least meaningful: Commencement – put on the cap and gown, sit through a few speeches, receive my diploma.
But in those last hours as a student, the perky, optimistic, ready-for-anything face I'd worn for four years melted away. I completely fell apart.
"Boludita, don't cry," my college sweetheart told me that morning, using a Spanish word meaning something like "little stupid one" that we had adapted into an affectionate nickname.
There was much to look forward to – an overseas trip! Graduate school! This all felt remote and less appealing because of graduation.
"I can't help it," I told him. "I don't want to leave. I don't want this year to be over. Nothing will ever be this good again."
We bid farewell so he could catch a flight and I could get to graduation procession.When I was standing alone on the sidewalk with tears streaming down my cheeks, a single thought would not go away: "I will never be happy again."
I wish that I had known Marina Keegan, the Yale graduate whose beautiful essay about graduating has been widely cherished since her untimely death in a car accident at age 22 last year. Marina's incredible insight and wisdom led her to write, "The notion that it's too late to do anything is comical. It's hilarious. We're graduating college. We're so young. We can't, we MUST not lose this sense of possibility because in the end, it's all we have."
It's clear from Marina's essay that she loved her time at Yale. I still get teary-eyed reading her words because it sounds as though she is directly addressing 22-year-old me - I who believed on graduation day that nothing was possible anymore.
College had delivered to me everything that I could have wanted. It had surrounded me with gifted individuals who always had something interesting to say. It had allowed me to be whoever I wanted to be, and so many things at once: A novelist, a journalist, an anthropologist, a magazine editor, a scholar, a marching band percussionist.
And now, upon receiving a diploma, that person would be thrown into a world of total uncertainty. I thought I would never truly be any of those things again. Even though I was going to graduate school for journalism, job prospects in the field were already looking dim. I didn't have any faith at all that I could find as fulfilling a life as I'd had in college.
Photos: Celebrating the class of 2013
I was cheered somewhat by my friends, by seeing my name on the list of academic honors, and by the charming salutatorian tradition, wherein the lucky student reads a speech in Latin – as if we all understand what's said - with annotations printed for graduates such as "laugh" and "applause."
But as the university president spoke, I started to cry again, even though it didn't seem like anyone else was particularly moved. Whatever she said, my mind translated it into, "You will never be happy again."
I picked up my diploma. My parents hugged me and congratulated me. We went to eat our final meal together at Forbes Hall, where I had lived as a freshman.
During lunch, I said very little. My parents discussed how remarkable it was that I was so sad, given how I had once been reluctant to apply to Princeton at all. In fact, I had cried when my mom dropped me at this very dormitory four years earlier, because I was also, at that time, convinced that I would not find a happy path for myself.
"So, let's get your stuff!" my mom said brightly on that last day.
"I want to stay another night," I said.
This surprised even me.
"Everyone's leaving! There won't be anyone here! They don't even allow that!"
"No, they do. I have friends who are staying."
It wasn't obvious that any of this was true, but I didn't care. I just couldn't go home yet.
As my parents drove back to Philadelphia, I went back to my dorm room, mostly packed except for a couple of hangers and my poster of Sevilla, Spain, where college had allowed me to study. I threw myself onto the twin bed and cried, and cried, and cried, until I found the voice that has guided me in troubling times ever since: "You have to keep going."
I cannot explain where this voice came from, but it repeated itself until I peeled my face away from the pillow. "You have to keep going."
It made me wash my face in the communal bathroom, remove my black gown and go outside.
Morehouse valedictorian's long journey
Near the same courtyard where I'd just received my graduation rites, I ran into friends who invited me to watch "Young Frankenstein." I don't remember much of this movie, but I remember that it gradually drew me out of my stupor and into the moment. I laughed. The guys laughed. Dr. Frankenstein – I mean "Fronkensteen" – made the act of graduating seem less significant.
There's been a lot of laughter and joy since then.
When I shared this essay with my friend Matt who started college one year after me, he said that I once told him, "College is crazy; take naps when you can."
He also reminded me that it's not the place, nor the institution itself, that makes us who we are: "The people we become in college are people we get to take with us, if we so choose. It's not college that makes us these things, it's college that allows - even forces - us to explore these latent parts of ourselves."
That is so true. Seven years after graduation, I am still a writer in many forms and, lo and behold, I get paid to write about my passions of health and science, with some anthropology thrown in. I've left my cymbals behind in New Jersey, but I play keyboard in two bands and even write my own songs. And I've taken on new identities: amateur improv comedian, runner, Russian enthusiast. There are amazing people I've met who didn't go to school with me, whom I'm closer to now than most of my college classmates.
Each day I am grateful for all of the wonderful aspects of post-college life, which somehow seemed so impossible on graduation day. College may have prepared me in some ways, but I'm ready to say: I'm glad I graduated.
I know that some people skip their graduation ceremonies, but I'm glad that I didn't. It was painful, but it was also a big STOP sign in a life that has otherwise been going by very fast. Allowing myself to feel and express that pain – however irrational or superficial you may think it was – made me realize this eternal truth:
We have to keep going.