By Van Jones, CNN Contributor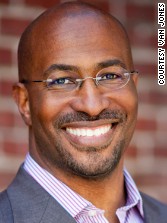 Editor's note: Van Jones, a CNN contributor, is president and founder of Rebuild the Dream, an online platform focusing on policy, economics and media. He was President Barack Obama's green jobs adviser in 2009. He is also founder of Green for All, a national organization working to build a green economy. Follow him on Twitter: @VanJones68.
(CNN) - The student debt fight is back - with a vengeance.
Once again, current students are facing the possibility of interest rates on Stafford Federal student loans doubling.
Once again, we are asking what our leaders are doing about a crisis that gets worse every year.
Once again, the answer is: Not much.
That is a huge problem - and not just for millennials, or young people born between 1980 and 2000. The approximately $1.1 trillion in student debt out there already constitutes a crisis for every one of us.
It is the only form of household debt that has continued to rise during the Great Recession. It is also the only form of debt that cannot be discharged under bankruptcy or even death, as parents who have lost children have discovered to their horror. It is preventing young people from buying homes and starting businesses.
In short, student debt is a $1.1 trillion anvil dragging down the entire U.S. economy.
Unfortunately, the conversation in Washington is not about big fixes, but simply how to avoid making matters worse by letting interest rates rise.