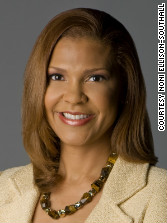 By Noni Ellison-Southall, Special to CNN
Editor's note: Noni Ellison-Southall serves as senior counsel for Turner Broadcasting System Inc., which operates CNN, and heads Turner's music division. She is on the boards of the Urban League of Greater Atlanta, MARTA, the Atlanta Speech School and the National Association for Multi-Ethnicity in Communications. She is a graduate of Howard University and University of Chicago Law School.

(CNN) - I was in a dead sleep the night of February 13 when I got an unexpected phone call. President Barack Obama would be visiting a preschool in nearby Decatur, Georgia, just days after he'd announced a priority on early childhood education. I was invited to hear him speak.
It would be special to hear the president addressing the importance of education, but especially for me. He was my law school professor. I wondered if he, now the president of the United States, was aware that he'd had a profound impact on my life years earlier at the University of Chicago Law School?
I didn't have long to reflect. My mind was racing as reality set in. With only 12 hours till showtime, what would I wear? What should I say? Would he remember me from class? I needed to get my camera, and of course, my syllabus from "Current Issues in Racism and Law," the class he'd taught.
It was stored safely in a green binder in an old leather briefcase in the basement with my law books. He'd apologized in the notes for messy copies, a consequence of not having a teacher's assistant. "On the other hand," he'd written in the syllabus, "my wife tells me that she wouldn't have minded getting the professor's notations on her reading material when she was in law school." I wasn't sure if he would sign it, but I planned to ask.
At a recreation center in Decatur, I sat in the row with Atlanta Mayor Kasim Reed and Sylvia Reed, his mother. It's a modest and very intimate space. There was festive music playing, press and security everywhere and a colorful banner that read "Preschool for All" hanging on the wall. Teachers walked around, giggling and taking pictures in front of the podium with the presidential seal affixed. A sense of excitement and anticipation filled the venue. It was surreal. Was I really going to meet the president of the United States today, all those years after I'd met him the first time?