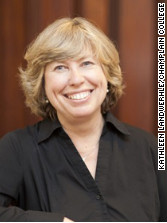 By Laurel Bongiorno, Special to CNN
Editor's note: Laurel Bongiorno is director of the master's degree program in early childhood education at Champlain College in Burlington, Vermont. She is working on a book on the value of play in early childhood development.
(CNN) - Parents want to buy the best toys for their children - the educational toys that will make them grow faster, read earlier and solve math problems faster.
Toy manufacturers often market high-priced toys that play by themselves (no child needed!), are connected to movies and television shows (no imagination needed!) or have just one purpose in mind. Once played with, they go in the closet.
On this last weekend before the Christmas gift-giving commences, parents should go back to basics when toy shopping for their young children from birth to age 8. Children are complex people who need holistic opportunities for development, learning, health and happiness.
Blocks, dramatic play clothes, art supplies, messy play opportunities, books and games are the stuff they need for the holidays. And, parents don't have to break the bank to afford them. The local dollar stores and thrift stores have many of these materials.
Consider a 4-year-old building a highway with the blocks. She sorts, sequences, maps, plans, predicts, estimates, counts and compares. The 7-year-old might create bridges and ramps, using basic physics concepts. Blocks are open-ended materials that the children don't tire of and retire to the closet when they are done. Parents can add to block-building fun by supplying play props such as cars, dinosaurs, animals and many other options. Math isn't the only benefit derived from blocks; children use their small motor skills, build their vocabulary, play cooperatively with others and gain self-control and patience.
FULL POST