By Jamie Gumbrecht, CNN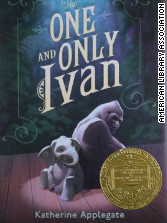 (CNN) – The latest round of books you'll be seeing in your kid's backpack and waiting for at the library was announced Monday. That is, the American Library Association named the winners of its annual youth media awards, including its oldest and best-known prizes, the Newbery and Caldecott medals.
The Newbery Medal went to "The One and Only Ivan" by Katherine Applegate. It's a fictional story about Ivan, a real-life gorilla who lived for years in a cage in a circus-themed mall before moving to Zoo Atlanta in 1994.
[tweet https://twitter.com/kaaauthor/status/295940118739578880%5D
In its 75th years, the Caldecott Medal went to "This Is Not My Hat," written and illustrated by Jon Klassen. It's the story of a little fish who tries to get away with the hat of a much larger fish. Klassen also illustrated the Caldecott honor book, "Extra Yarn."
[tweet https://twitter.com/burstofbeaden/status/295938730894716928%5D
[tweet https://twitter.com/burstofbeaden/status/295939283573952513%5D
[tweet https://twitter.com/burstofbeaden/status/295939879999778816%5D
"Bomb: The Race to Build - and Steal - the World's Most Dangerous Weapon," by Steve Sheinkin and "Aristotle and Dante Discover the Secrets of the Universe," by Benjamin Alire Sáenz, also received multiple honors from the library association on Monday. Katherine Paterson, author of "Bridge to Terabithia" and "Jacob Have I Loved," received the Laura Ingalls Wilder Award for "substantial and lasting" contributions to children's literature. Tamora Pierce, author of "The Song of the Lioness," won the Margaret A. Edwards Award for lifetime achievement in writing for young adults.
The award announcements lit up Twitter as teachers and librarians streamed the awards announcement live, and classes watched to see how their  mock Caldecott and Newbery votes held up.
The awards are big business, too, meaning prominent placement for winners on bookstore and library displays.
"Receiving a Caldecott Medal practically guarantees that the winning title will remain in print and on library and bookstore shelves for decades to come," the library association posted on its website.
Here's a list of winners: