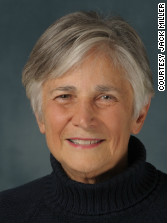 By Diane Ravitch, Special to CNN
Editor's note: Diane Ravitch was assistant secretary of education in the administration of George H.W. Bush. She is a historian of education and is now a research professor at New York University.  She is the author of several books on education, including her latest "The Death and Life of the Great American School System: How Testing and Choice are Undermining Education."   She blogs daily at dianeravitch.net and can be followed on Twitter at @DianeRavitch.
Schools of Thought will be publishing other views on this topic in the days up to the election.
(CNN) - Over the past three years, I have been an outspoken critic of the education policies of the Obama administration. In my view, Race to the Top is a disastrous program that is almost indistinguishable from the Bush administration's failed No Child Left Behind legislation. Both programs require teaching to the test, both encourage privatization of our public schools, and both have demoralized the nation's educators while doing nothing to improve education.
But as bad as the Obama education policies are, they are tolerable in comparison to what Mitt Romney plans. Romney claims credit for the academic successes of Massachusetts, but he had nothing to do with the gains in that state, which were enacted 10 years before he became governor. The Massachusetts education reforms doubled the budget for public schools, increased spending on early childhood education, and raised standards for new teachers, but Romney intends to do none of that if elected President.
If elected president, Romney will curtail spending on everything except privatization of public education. He will lower standards for entering the teaching profession. His policies will devastate our public schools and dismantle the education profession. He supports charters and vouchers and welcomes the takeover of public schools by for-profit entrepreneurs. Unlike the Massachusetts reforms that he wrongly takes credit for, he offers not a single idea to improve public education. Romney nowhere acknowledges that free public education is a public responsibility and an essential institution in a democratic society.
Under a Romney administration, I fear not only for the future of public education but for the future of our society. Presently, nearly 25% of American children are growing up in poverty. We lead the advanced nations of the world in child poverty. Romney offers no proposals to reduce that scandalous number. Only government action can make a dent in a problem of that magnitude, but Romney believes in private charity, not government action.
FULL POST