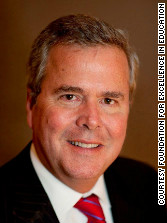 Editor's note: Jeb Bush was governor of Florida from 1999 to 2007 and is chairman of the Foundation for Excellence in Education.
By Jeb Bush, Special to CNN
(CNN) - Kaleigh Fair had to make it work.
The Las Vegas teenager suffers from two different illnesses – one an excruciating immunodeficiency, the other a rare brain condition called Chiari malformation where portions of the brain protrude into the spinal cord.
When spending five hours a day hooked up to an IV prevented her from continuing classes at her traditional high school, Kaleigh didn't give up on her education. She transferred to the Nevada Virtual Academy, a tuition-free online public high school that individualizes curriculums for students of all learning abilities.
Inspired by Kaleigh's strength, her twin sister Danielle switched from her traditional high school to Nevada Virtual, as well, allowing her to receive a quality education while spending more time helping her sister overcome two life-threatening illnesses.
The Fair sisters graduated from Nevada Virtual Academy last spring and enrolled at the University of Nevada-Las Vegas. After all the time she spent at the doctor's office, Kaleigh is pursuing a degree in nursing – through online courses, of course.
Parents, students and community members will gather at more than 3,000 events across the country this week in order to celebrate thousands of outstanding students like Kaleigh and Danielle, and the educational options that they've utilized in order to thrive when presented with situations that just a few years ago would have kept them on the educational sidelines.
The nationwide celebration is called National School Choice Week 2013. Led by a bipartisan, grassroots coalition, National School Choice Week celebrates the rights of parents and children to choose high-performing traditional public schools, public charter schools, private schools, magnet schools, home schools or virtual schools.
The right to a quality primary and secondary education is something that can and should be one of our most fundamental, uniting American issues – and digital education is no exception.