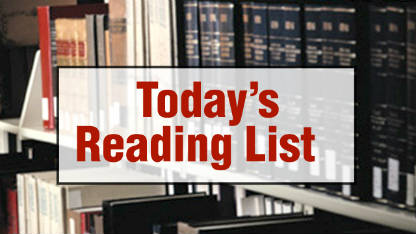 Here's what the editors of Schools of Thought are reading today:
Los Angeles Japanese Daily News: USC Honors Nisei at Graduation
Nine Japanese-American students who were forced into internment camps while they were students at University of Southern California during World War II graduated from USC on Friday. A small group protested the graduation because the honorary degrees are only being conferred upon the living, and because some were denied their transcripts if they continuted their education elsewhere.
AZCentral.com: Some schools removing valedictorian title
Some Arizona high schools are honoring more of their best students, not just the top two who used to earn the titles valedictorian or salutatorian. Some top students prefer the competition for the title and are afraid the lack of one hurts them in the hunt for college scholarships.
Education Week: Charters Bills Go Down in Alabama, Mississippi
Recently, charter school bills have been popular in the Deep South. However, in Alabama and Mississippi this legislative session, charter school measures died before they could hit pro-charter school governors' desks.
U.S. News: 3 Etiquette Tips for New PTA Members
Parent-Teacher Associations can have an impact on school budgets, curriculum, and other activities. The article offers advice on how parents who are new to a school can introduce themselves to the PTA.
Wired.com: Girls Impress FIRST Championship With Project That Could Save Lives
Thousands of students gathered in St. Louis recently to compete in a national robotics competition, which includes the Junior FIRST Lego League. The Hippie Pandas, an all-girl team from New York, invented a way for people to pasteurize milk safely, and their invention is already in use in Nicaragua.