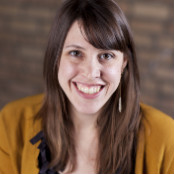 By Cassie Meyer, Special to CNN
Editor's Note:  Cassie Meyer is director of content and oversees training and curriculum development at Interfaith Youth Core. She has a master's degree from the University of Chicago Divinity School.
(CNN) - As we lead up to the 83rd anniversary of the Rev. Martin Luther King Jr.'s birth next week, the organization that I work for, the Interfaith Youth Core , will be at Emory University for our January Interfaith Leadership Institute. More than 160 students, faculty and staff members from colleges and universities across the country will gather in King's hometown to tackle questions of what it means to engage religious diversity constructively when so much of our public discourse about religion is fraught with ignorance, misunderstanding and outright bigotry.
At Interfaith Youth Core, our mission is to make interfaith cooperation a social norm; we have always seen King not only as a key architect of the Civil Rights Movement but as what we call an "interfaith leader" for his ability to mobilize people of different religious and non-religious identities toward a common end. At the institute, we'll ask how students and their allies from across the country can build on this facet of King's legacy, making interfaith cooperation a reality on their campuses. FULL POST