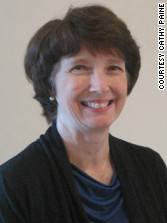 By Cathy Paine, Special to CNN
Editor's note: Cathy Paine is a school psychologist in Springfield, Oregon, and chairwoman of the National Emergency Assistance Team for the National Association of School Psychologists. She was a panelist at the White House Summit on School Violence Prevention in 2006.
This week, Schools of Thought publishes perspectives on school security. Tomorrow, a school resource officer explains his role in campus security.

(CNN) - I received the emergency call at 8:14 a.m. on May 21, 1998.
Eighteen minutes earlier, a 15-year-old student had entered Thurston High School armed with two handguns and a semi-automatic rifle, and in a matter of seconds, killed two students and wounded 25 more, some sustaining life-long injuries. As a school psychologist in Springfield, Oregon, I was called because of my role on the district's crisis response team. In a few short moments, we were transformed from innocent, unsuspecting individuals engaged in our normal routines into traumatized victims of a school shooting spree.
Those shots shattered our sense of safety and security; no longer could we say, "It can't happen here." While nothing in my 23 years of experience in education prepared me for the magnitude of that horrifying event, my training as a school psychologist did prepare me to know how to respond in the moment and to provide counseling support to students and staff in the days, weeks and months of recovery. The experience also reinforced for me how critically important mental health is to all aspects of the school safety and violence prevention continuum.
Since then, I have devoted significant energy to advocating for effective school safety, crisis prevention and intervention strategies at the local and national levels as a member of my district crisis team and as a member and chairwoman of the National Association of School Psychologists' National Emergency Assistance Team. In both roles, I have learned some important lessons about what works, lessons I strongly believe should be our guiding principles as the nation grapples (once again) with the question, "How to we keep our students safe?" in the aftermath of the heartbreaking events at Sandy Hook Elementary School.