By David J. Skorton, Special to CNN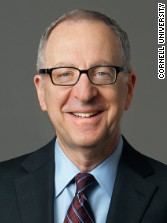 Editor's note: David J. Skorton is president of Cornell University and professor in the Departments of Medicine and Pediatrics at Weill Cornell Medical College and in Biomedical Engineering at Cornell's College of Engineering. A former president of the University of Iowa, he is a board-certified cardiologist, past chair of the Business-Higher Education Forum and life member of the Council on Foreign Relations.
(CNN) - As college admissions notifications go out over the next several weeks, there is no doubt that the cost of college is a growing concern. Students and families are trying to figure out how to get the most out of the college experience and the best value for their investment.
The interactive College Scorecard that President Barack Obama announced in his 2013 State of the Union Address provides the average "net price" of attendance - that is, tuition minus the average amount of financial aid. (As the scorecard notes, it is important to get more specific cost information by using the financial aid calculator on each college's website.)
Promised, but not yet available in the scorecard, is a summary of the kinds of jobs that students find once they graduate and how much they earn. This information may be of limited utility, however, because, as Harvard President Drew Faust has pointed out, the value of a college degree should not be judged solely on the first job acquired, but it should be "a passport to a lifetime of citizenship, opportunity, growth and change."
How can students and families navigate these confusing and ever-changing waters? As a university president whose institution received nearly 40,000 applications for admission this year, as someone who is responsible to see the big picture - and as someone who has been through the college selection process with members of my own family - I know that a substantial part of college choice must belong to the student. It must encompass facts, but also the "feel" of the college and the fit with the student's background, personality and interests.
READ: College Scorecard tries to reality check school 'sticker price'
So, students, here are some things, beyond the College Scorecard, to consider in deciding which colleges provide value for you.