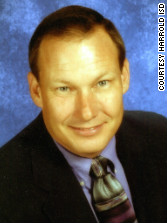 By David Thweatt, Special to CNN
Editor's note: David Thweatt has been superintendent of the Harrold Independent School District in Harrold, Texas, for nine years.
This week, Schools of Thought will publish perspectives on school security. Tomorrow, a parent and author reacts to school safety responses in the wake of the school shooting in Newtown, Connecticut.
(CNN) - Good parents protect their children. We protect them from the wind, sun, fire, cold, sickness, from animals, harmful philosophy, other children, predatory adults, injury when possible, their own faulty reasoning and anything else that we see as a dangerous risk to their health and well-being. They are the future, and they are precious.
At the Harrold Independent School District in Texas, we believe we've done everything possible to protect our children. We use cameras, electronic security and emergency plans, and some of our staff members are armed.
When I got into education in 1979, the idea of guns in schools was completely off my radar. But I believe faulty logic was used to frame the 1990 gun-free school zones law, which made it illegal for most citizens to knowingly possess firearms near schools. No police record, news account or anecdotal evidence showed that school personnel authorized to carry weapons used guns to hurt or injure innocent children. There was no reason for the federal law except defective reasoning: Policy makers believed that because guns came into schools in the hands of law-breaking gang members and drug dealers, the smart response was to take them away from law-abiding citizens.
What a perilous law that has become. We hung a sign on virtually every school in America that said, "Here await our most precious possessions in the world, and they are not protected."
In Harrold, our school serves about 105 students in our rural community 150 miles northwest of Fort Worth. Best-case scenario, we are a half-hour away from the closest law enforcement officials.
In 2005, after shootings at other schools and universities, I began to research ways to protect our school's children, and my research included the idea of arming staff members. There was no blueprint for how that would work, so we spent two years researching and considering different requirements and legal issues. The school board passed it October 22, 2007.
We call it the Guardian Plan.