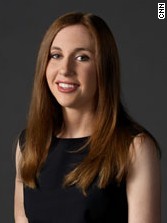 By Elizabeth Landau, CNN
Editor's note: Elizabeth Landau is a health and science writer and producer for CNN.com. She is a 2006 graduate of Princeton University. Here she offers a personal take on the terror that can accompany such a happy milestone.

(CNN) - On paper, I was ready to graduate. In my head, though, I never wanted that moment to arrive.
Sure, I was academically qualified. I had already been through the festivities that Princeton lavishes upon its graduating seniors in the week prior to The Day: The Reunions parade, a hilarious talk by David Sedaris, an outdoor sing-along, an inspirational speech by Bill Clinton, the bestowing of honors and awards, and a prom-like gala where soon-to-be-graduates and parents danced awkwardly. Princeton really likes to celebrate things.
The final ceremonial act would, superficially, be the easiest and least meaningful: Commencement – put on the cap and gown, sit through a few speeches, receive my diploma.
But in those last hours as a student, the perky, optimistic, ready-for-anything face I'd worn for four years melted away. I completely fell apart.
"Boludita, don't cry," my college sweetheart told me that morning, using a Spanish word meaning something like "little stupid one" that we had adapted into an affectionate nickname.
There was much to look forward to – an overseas trip! Graduate school! This all felt remote and less appealing because of graduation.
"I can't help it," I told him. "I don't want to leave. I don't want this year to be over. Nothing will ever be this good again."
We bid farewell so he could catch a flight and I could get to graduation procession.When I was standing alone on the sidewalk with tears streaming down my cheeks, a single thought would not go away: "I will never be happy again."
I wish that I had known Marina Keegan, the Yale graduate whose beautiful essay about graduating has been widely cherished since her untimely death in a car accident at age 22 last year. Marina's incredible insight and wisdom led her to write, "The notion that it's too late to do anything is comical. It's hilarious. We're graduating college. We're so young. We can't, we MUST not lose this sense of possibility because in the end, it's all we have."
It's clear from Marina's essay that she loved her time at Yale. I still get teary-eyed reading her words because it sounds as though she is directly addressing 22-year-old me - I who believed on graduation day that nothing was possible anymore.