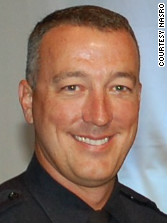 By Kevin Quinn, Special to CNN
Editor's note: Kevin Quinn is a 17-year law enforcement veteran, the president of the National Association of School Resource Officers and a school resource officer in the largest high school in Arizona.
This week, Schools of Thought publishes perspectives on school security.

(CNN) – Ever since the heart-wrenching shooting at Sandy Hook Elementary School in Newtown, Connecticut, I've been hearing from parents who want to know what I'm doing to keep their kids safe. As a school resource officer in a high school, I'm here to answer their questions and take action as necessary. We're all thinking the same thing: Don't let it happen here.
School resource officers have been around for decades, but many hadn't heard of them before the past few weeks. We're not security guards or even extra, hired police officers who "stand guard" in front of a school. School resource officers, known as SROs, are fully sworn law enforcement officers, armed, in uniform and assigned to a school full-time, just as an officer might be assigned a neighborhood. We have all the same training as other police officers, and often more. We know how to deal with situations alone or with just a partner, or how to work within a community of teenagers. The National Association of School Resource Officers estimates there are about 10,000 around the country, mostly in junior high and high schools.
On Wednesday, President Barack Obama called for more emergency planning and school resource officers in our nation's schools – a move the National Association of School Resource Officers applauds. The number of school resource officers declined recently because of tight budgets. Some areas split the cost between the school districts and local governments or use grant funding to employ SROs. I'm not into politics. I don't care how it gets done. But I know that well-trained school resource officers make schools safer.
We do it by working diligently with community stakeholders. The successful school resource officer program is a collaborative effort by certified law enforcement officers, educators, students, parents and the community to offer educational programs in the schools, reduce crime, drug abuse and violence - all of which contribute to a safe school environment.