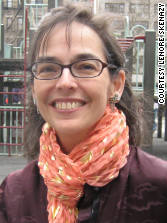 By Lenore Skenazy, Special to CNN
Editor's note: Lenore Skenazy is a public speaker and founder of the book and blog Free-Range Kids. Her show "World's Worst Mom"  - a title she once earned - airs on Discovery/TLC International.

This week, Schools of Thought publishes perspectives on school security. Tomorrow, a school psychologist reflects on how access to mental health care affects school safety.

(CNN) - In the wake of the Sandy Hook shootings, we are suffering from a very American malady: Post-Traumatic Stupidity Syndrome.
Folks in the throes of PTSS are so traumatized by a tragic event that they immediately demand something – ANYTHING – be done to prevent it from ever occurring again. Even if the chances of it happening are one in a million. Even if the "preventative measures" proposed are wacky, wasteful, ridiculous - or worse.
On my blog, Free-Range Kids, I asked readers to tell me what their districts were doing in reaction to the Newtown shooting and thus I heard about lots of schools reviewing their lockdown drills – which makes sense, like reviewing a fire or tornado drill. But then I also heard from readers whose school administrators seem to have lost their minds.
One school, for instance, proceeded with its first grade Christmas concert…except that all the parents attending had to hand in their car keys to the office before entering the auditorium.
Because guns don't kill people … people with car keys kill people?