Editor's note: Lydia McAllister is a graduating senior at Joplin High School in Joplin, Missouri. She writes for the school newspaper, The Spyglass, plays soccer, is an officer with the National Honor Society and was a member of the school's state champion Constitution Team. In the fall, she plans to attend the University of Missouri to study journalism.
Last year, Lydia wrote about returning to classes at a temporary high school after a May 22, 2011, tornado destroyed parts of Joplin, including the old high school.
By Lydia McAllister, Special to CNN
(CNN) - It's so easy to fall into the trap of "What if…?" What if the tornado hadn't torn my house to mere sticks? What if my dad's business was still standing? What if my school still had walls?
One year after an F5 tornado blew through town, we're rebuilding, and we've made it through a school year. On Monday, I'm graduating.
The year at our high school in the mall had its ups and downs. I missed having the ninth- and 10th-grade students around, and I know they wish the upperclassmen were with them, but we had to work with what we got - and what we got is an absolute miracle. It isn't some foreign building; it has really become a high school.
Although laptops make life easier, the change to a "paper-less" school has been hard on the teachers, and I sometimes felt like I wasn't learning what I could if I didn't have Twitter open in the next tab. This year taught me lessons that will help me in college: Your education is what you make it. You can choose whether to get a lot or a little from your classes.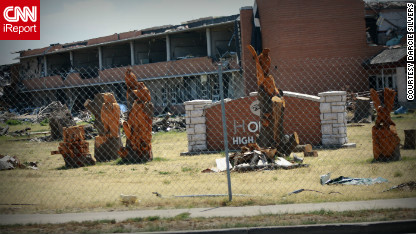 Joplin High School will be rebuilt and will open in a few years.
Impact Your World: Rebuilding Joplin
I feel beyond blessed to have President Barack Obama speaking at our ceremony. How many high school students can say that the president spoke at their graduation? I know there are mixed opinions about politics, but this is a great honor. I might not vote for him in the upcoming election, but I can still appreciate how important this is for Joplin.
I can't help but smile when I drive down Range Line Road on the route to school. It's been amazing to watch businesses spring up right and left. Now we have Home Depot, Academy Sports and Outdoors, Wal-Mart, Wendy's, Sonic. My town finally looks like what it should, not like a war zone, but like the place I grew up.