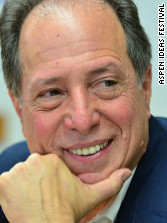 By Michael Kimmel, Special to CNN
Editor's note: Michael Kimmel is distinguished professor of sociology and gender studies at Stony Brook University. His new book, "Angry White Men," will be published by Nation Books in the fall.
(CNN) - Is your daughter a tomboy? Your son not especially into football? Does your daughter excel at math? Your son a skilled artist? Or does your daughter switch roles, relatively easily, from skinning her knees on a soccer field to worrying about what to wear to a party? Or does your son, like mine, come home sweaty and bruised from lacrosse practice only to sing gorgeously in the shower as a member of his high school a cappella group?
If your answers are yes - and probably most parents recognize some elements of these traits in their children - you can breathe a bit easier today. That is, at least, if you happen to live in Wood County, West Virginia.
That's because recently, under a legal challenge by the American Civil Liberties Union and its local affiliates, the Wood County Board of Education agreed to abandon for two school years its program of separating boys and girls into single-sex classes. The ACLU had filed a lawsuit on behalf of a mother and her daughters who claimed the sex segregation was a form of sex discrimination against girls.
This little-noted legal settlement gives all of us - parents, teachers, administrators, and kids themselves - something to think about: Are single-sex classes really an effective way to educate our children?
Historically, of course, single-sex schools - especially private schools and colleges - were the norm. But since the dawn of the 20th century, both educators and parents have seen them as historic anachronisms, especially for boys. Single-sex schools for girls may have challenged stereotypes, but single-sex schools for boys reproduced them, fostering what David Riesman and Christopher Jencks, in their monumental midcentury study, "The Academic Revolution," called "male arrogance."
Today, single-sex schools may provide some benefits, though these tend to be benefits that accompany the economic privilege of the families that can afford them. (That is, single sex private schools tend to also be schools for the elite.) But single-sex classes, in otherwise coeducational public schools, are entirely misguided.