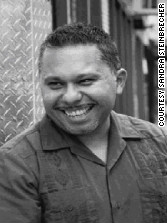 Editor's note: Ray Salazar is a National Board Certified English teacher in the Chicago Public Schools. He writes about education and Latino issues on the White Rhino blog. Follow him on Twitter @whiterhinoray.
By Ray Salazar, Special to CNN
(CNN) - During Tuesday's State of the Union address, President Barack Obama spoke about gun violence, and he continues the discussion in Chicago today. He recognized in his speech, "our actions will not prevent every senseless act of violence in this country."
As a high school teacher in Chicago, I want to hear more than an acknowledgment that shootings are happening, that young people are dying violently and unfairly.  I want to hear his determination to push through Second Amendment politics and assure us his leadership will make our streets safer. We might not be able to prevent every senseless act, but we must decrease the desensitization that encourages only one-word reactions to shootings: "Again?"
My first teaching job in 1995 focused on troubled teens at an alternative high school on Chicago's Southwest side. I grew up in this neighborhood, but only knew gun violence in Little Village as a distant reference - until one of my students got shot in the middle of the day, about one mile from the school, about one block from my house.
Sergio had returned to school in 1996 after dropping out. He slouched and wore a black, dusty hoodie. He struggled. His spelling was so bad that all I could do was rewrite his crooked sentences so he could then rewrite them correctly. He never complained. He sat, mostly silent, usually working. One day, his parole officer met with me and said his spelling was getting better. In 1997, he was shot and died.
He became the first person I knew killed by being shot. A couple of years later, someone shot a gang banger in front of my house while I dozed off to "Saturday Night Live." A few years after that, my wife and I were shot at near our home as we returned from a wedding. Despite my anger, my disappointment, my fear, I felt all I could do was call 911.
In 2012, Chicago reached 500 homicides. So far this year, Chicago has at least 42 murder victims, one of them a high school student who performed at events around Obama's inauguration.
We've explored controversial issues in my classes, but we never took on gun violence, perhaps because it wasn't controversial. There is only one side to it - it should not exist. I didn't know how to push students into a deeper conversation or meaningful debate about this.
It was after the Sandy Hook shooting, however, I felt obligated to engage my students in conversations about guns. Gunshots, because of Colorado, Arizona and Connecticut, finally captured people's attention beyond Little Village. I knew my students would hear perspectives on the news, online, on Facebook. What would they say? What would they do? They needed to know the vocabulary, the history, the rhetoric to challenge closed minds and respond to open-ended questions in ways that represented their individual reality. We needed to join the national discussion.
These, after all, are the experiences that show students how the writing in their notebooks matters outside of our classroom.