By Wendy Kopp, Special to CNN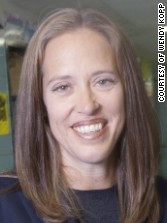 Editor's note: Wendy Kopp is CEO of Teach for All, a global network of independent organizations dedicated to expanding educational opportunity, and founder and board chairwoman of Teach for America, a national corps of recent college graduates who commit two years to teach in high-needs schools.
(CNN) - Tech visionary Steve Jobs understood better than anyone the impulse to believe that technology can solve our most complex societal problems. "Unfortunately it just ain't so," he said. "We need to attack these things at the root, which is people and how much freedom we give people. ... I wish it was as simple as giving it over to the computer."
That's certainly true when it comes to education, particularly in impoverished communities.
As a founder of two organizations that recruit top college graduates to expand educational opportunity, I've spent a lot of time examining what's at work in successful classrooms and schools over the past two decades. In every classroom where students are excelling against the odds, there's a teacher who's empowered her students to work hard to realize their potential. Whenever I ask the leaders of successful schools their secret, the answer is almost always the same: people, people, people. They are obsessed with recruiting and developing the best teams.
Research confirms that great teachers change lives. Students with one highly effective elementary school teacher are more likely to go to college, less likely to become pregnant as teens and earn tens of thousands more over their lifetimes. Faced with the choice between giving every child in a school his or her own laptop or putting 30 of them in a classroom with one exceptional teacher, there's no question which is the better investment.
So it's disappointing to see more and more people herald technology as an educational panacea while dismissing the indispensable role of people.