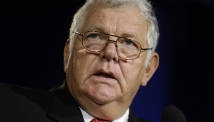 By William J. Bennett, CNN contributor
Editor's note: William J. Bennett, a CNN contributor, is the author of "The Book of Man: Readings on the Path to Manhood." He was U.S. secretary of education from 1985 to 1988 and director of the Office of National Drug Control Policy under President George H.W. Bush.
(CNN) - On NBC's "Meet the Press" this past Sunday, I was asked how we can make our schools safer and prevent another massacre like Sandy Hook from happening again. I suggested that if one person in the school had been armed and trained to handle a firearm, it might have prevented or minimized the massacre.
"And I'm not so sure - and I'm sure I'll get mail for this - I'm not so sure I wouldn't want one person in a school armed, ready for this kind of thing," I said. "The principal lunged at this guy. The school psychologist lunged at the guy. Has to be someone who's trained. Has to be someone who's responsible."
Well, I sure did get mail. Many people agreed with me and sent me examples of their son or daughter's school that had armed security guards, police officers or school employees on the premises. Many others vehemently disagreed with me, and one dissenter even wrote that the blood of the Connecticut victims was ultimately on the hands of pro-gun rights advocates.
To that person I would ask: Suppose the principal at Sandy Hook Elementary who was killed lunging at the gunman was instead holding a firearm and was well trained to use it. Would the result have been different? Or suppose you had been in that school when the killer entered, would you have preferred to be armed?
Evidence and common sense suggest yes.
LZ Granderson: Teachers with guns is a crazy idea
In 2007, a
gunman entered New Life Church
in Colorado Springs and shot and killed two girls. Jeanne Assam, a former police officer stationed as a volunteer security guard at the church, drew her firearm, shot and wounded the gunman before he could kill anyone else. The gunman then killed himself.
In 1997, high school student Luke Woodham stabbed his mother to death and then drove to Pearl High School in Pearl, Mississippi, and shot and killed two people. He then got back in his car to drive to Pearl Junior High to continue his killings, but Joel Myrick, the assistant principal, ran to his truck and grabbed his pistol, aimed it at Woodham and made him surrender.
These are but a few of many examples that the best deterrent of crime when it is occurring is effective self-defense. And the best self-defense against a gunman has proved to be a firearm.